Workshop på Dikemark Asylmottak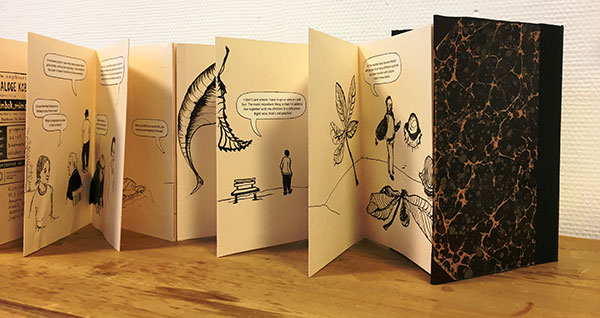 Analoge koblinger
Et
Min bok, min stemme
-prosjekt
2018-2019
Analoge koblinger er et sosialt og stedsrelatert kunstprosjekt drevet av billedkunstner Sophie Rodin, sammen med deltakere i alle aldre fra de tre kommunene Røyken, Hurum og Asker. Prosjektet gjennomføres i forbindelse med sammenslåingen til ny storkommune 1.1.2020.
Målet med prosjektet er å skape møteplasser for samvær, kunstnerisk aktivitet, refleksjon og ytring, innen temaer som stedsidentitet, utenforskap, tilhørighet, og historie.
I workshops tegner og skriver deltakerne for så å samle arbeidene til unike håndlagde bøker. Samlingen av deltakernes bøker vil utgjøre et bibliotek av mangfold og personlige uttrykk og skal presenteres i en utstilling i Asker Bibliotek i november 2019.
Facebook:
https://www.facebook.com/mybookmyvoice/
Engelsk:
Analoge koblinger is a social and site related art project run by Sophie Rodin in cooperation with participants from local communities, west of Oslo.
The aim is to create a space for interaction, drawing, reflection and creation of Artist Books. The collection of unique handmade books will be exhibited in November 2019 in Asker, Norway.
Facebook:
https://www.facebook.com/mybookmyvoice/